The Greek-English Lexicon - Abridged (Liddell, Scott, Jones), best known as Middle Liddell/Scott - MLSJ, is now available for free for theWord.
Keyed to Greek words, with abbreviations linked and explained for easy reading. Each definition is nicely formatted and indented for easier reference and less clutter.
Read more at the downloads page.
Tuesday, 27 December 2011
Back to News

Stay tuned!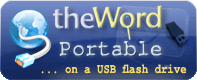 Useful links
Email updates
Enter your email to be notified for updates on program and modules
Is it safe to give you my email?
Latest version
The latest version of theWord is 5.0.0.1450.
Find out how you can check what version you are using
Random verse
For I delivered to you, in the first place, what also I had received, that Christ died for our sins, according to the scriptures; and that he was buried; and that he was raised the third day, according to the scriptures; (1 Corinthians 15:3,4)