This massive, 56 volume impressive work is now available
for free
for theWord.
Edited by Joseph S. Exell (One of the Editors of 'The Pulpit Commentary')
Includes all 56 Volumes, nearly 35,000 pages of material from hundreds of authors
Presents Scripture in a unique way using a collection of illustrations, outlines, anecdotes, history, poems, expositions, geography, sermons, Bible backgrounds, homiletics
Includes hundreds of references to, and explanations of, Greek words
Read more info and download now.
Wednesday, 28 December 2011
Back to News

Stay tuned!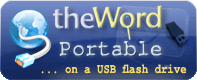 Useful links
Email updates
Enter your email to be notified for updates on program and modules
Is it safe to give you my email?
Latest version
The latest version of theWord is 5.0.0.1450.
Find out how you can check what version you are using
Random verse
But *ye* are not in flesh but in Spirit, if indeed God's Spirit dwell in you; but if any one has not [the] Spirit of Christ *he* is not of him: (Romans 8:3)