A compilation of the books
Complete Gathered Gold
(1984),
More Gathered Gold
(1986),
Sifted Silver
(1995) containing over 16,000 quotations covering 600 subjects from the Bible
Over twenty years ago John Blanchard compiled 'A treasury of quotations for Christians' called Gathered Gold. It was so well received that it had to be reprinted several times and augmented by two further volumes, More Gathered Gold and Sifted Silver. Now the time has come to make all of this material available to a new readership and in a new format. Approx. 1,000 further quotations have been added, making some 16,000 in all, and the whole work is presented as a new hardback edition.
Read more at the product page.
Back to News

Theological Wordbook of the Old Testament
Extensive, scholarly discussion of every Hebrew word of theological significance in the Old Testament. Keyed to Strong's Concordance.
Stay tuned!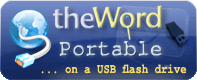 Useful links
Email updates
Enter your email to be notified for updates on program and modules
Is it safe to give you my email?
Latest version
The latest version of theWord is 5.0.0.1450.
Find out how you can check what version you are using
Random verse
And forasmuch as it is the portion of men once to die, and after this judgment; thus the Christ also, having been once offered to bear the sins of many, shall appear to those that look for him the second time without sin for salvation. (Hebrews 9:27,28)