This is an inspiring collection of the stories behind your favorite hymns, including well-loved humns like
A Mighty Fortress, Amazing Grace, Fairest Lord Jesus, Holy, Holy, Holy, How Great Thou Art, It Is Well With My Soul, Jesus Loves Me, Rock Of Ages, Silent Night, The Old Rugged Cross.
Music scores are included with each hymn!
Also, for each hymn:
• the full text is included along with it's story of its composition
• information about all authors, composers, data on the tune name and meter
• All images from the printed edition are included
• Selected bibliography for further reading and research in the field of hymnology
Read more information, check all the hymns included and see samples at the product page.
Saturday, 14 January 2012
Back to News

IVP Bible Background Commentary, Old Testament
One-of-a-kind commentary on the cultural background of the Pentateuch
Stay tuned!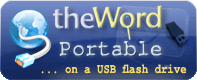 Useful links
Email updates
Enter your email to be notified for updates on program and modules
Is it safe to give you my email?
Latest version
The latest version of theWord is 5.0.0.1450.
Find out how you can check what version you are using
Random verse
I am the good shepherd. The good shepherd lays down his life for the sheep; (John 10:11)