The New International Commentary on the New Testament (
NICNT
) has been licensed for use with theWord and the first title being published is
The Epistle to the Romans
by
Douglas, J. Moo
!
About the NICNT
The New International Commentary on the New Testament provides an exposition of Scripture that is thorough and abreast of modern scholarship, yet at the same time loyal to Scripture as the infallible Word of God. This decades-long project has become recognized by scholars, pastors, and serious Bible students as critical yet orthodox commentary marked by solid biblical scholarship within the evangelical Protestant tradition.
The NICNT commentary covers all the books of the New Testament except for 2 Peter and Jude. Each book will be published separately in time as it is prepared for use with theWord!
The Epistle to the Romans by Douglas, J. Moo
Paul's letter to the Romans has been called "the quintessence and perfection of saving doctrine." Perhaps the most challenging and thoroughly doctrinal book of the entire New Testament, Romans deals with many issues that are basic to Christian theology and practice. In this volume respected New Testament scholar Douglas J. Moo provides a superb study of Paul's letter to the Roman Christians and restates the enduring message of Romans for Christians today.
Read more about The Epistle to the Romans and see samples at the product page.
Back to News

The Bible Panorama (revised 2nd edition)
Surveying the scenery of Scripture; Each chapter of each book of the Bible plainly summarised and explained
Stay tuned!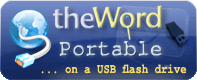 Useful links
Email updates
Enter your email to be notified for updates on program and modules
Is it safe to give you my email?
Latest version
The latest version of theWord is 5.0.0.1450.
Find out how you can check what version you are using
Random verse
For if we believe that Jesus has died and has risen again, so also God will bring with him those who have fallen asleep through Jesus. (For this we say to you in [the] word of [the] Lord, that *we*, the living, who remain to the coming of the Lord, are in no way to anticipate those who have fallen asleep; for the Lord himself, with an assembling shout, with archangel's voice and with trump of God, shall descend from heaven; and the dead in Christ shall rise first; then *we*, the living who remain, shall be caught up together with them in [the] clouds, to meet the Lord in [the] air; and thus we shall be always with [the] Lord. (1 Thessalonians 4:14-17)