The Word software is updated regularly. New features are added almost every week and the new builds are made available for immediate download. Moreover, the library of available modules is being extended and updated all the time.
If you want to be notified of such updates you can register to receive the newsletter in order to receive email notifications. Please fill in the fields below and click on Add email to the list. Please, copy also the verification number you see in the text box on the left (this is done to block spam).
If you have registered before and you wish to remove your e-mail from the notification list, please click on the Remove my email from the list button.
To change the type of updates you receive, just re-enter your data and click Add email to list: your preferences will be updated.


Stay tuned!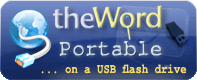 Useful links
Email updates
Enter your email to be notified for updates on program and modules
Is it safe to give you my email?
Latest version
The latest version of theWord is 6.0.0.1527.
Find out how you can check what version you are using
Random verse
For God so loved the world, that he gave his only-begotten Son, that whosoever believes on him may not perish, but have life eternal. (John 3:16)