From this page you can activate your product with the use of a promo code. Please, fill in carefully your code in the following field. The code is case inSenSitIve.

Stay tuned!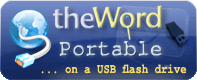 Useful links
Email updates
Enter your email to be notified for updates on program and modules
Is it safe to give you my email?
Latest version
The latest version of theWord is 6.0.1.1533.
Find out how you can check what version you are using
Random verse
Jesus said to her, I am the resurrection and the life: he that believes on me, though he have died, shall live; (John 11:25)