New International Version, 1984 edition

PRICE: $25.95

AUTHOR: Zondervan
AVAILABILITY: Immediate download and unlock of module
PRODUCT HIGHLIGHTS: Includes more than 110,000 cross-references, translator's notes, passage headings, parallel passages, word of Jesus in red, poetry and prose text indentation
DESCRIPTION


Notice: This is the 1984 edition of the NIV. If you are looking for the latest 2011 edition, please go here. Please notice that this version will only be available until end of July 2011.

The NIV has become the best-selling English version of the Bible since the King James Version. The NIV follows the principle of "dynamic equivalence" to ensure crystal clear understandable English. The best balance between word-for-word and thought-for-thought.

More than 100 scholars from six English-speaking countries, as well as editors and English stylists, worked on the NIV. The scholars represented more than 20 denominations.

The electronic version of the NIV for theWord includes more than 110,000 cross-references, translator's notes, passage headings, parallel passages, words of Jesus in red and more. The rendering closely matches the printed version including italics, poetry indentation and paragraphs. Check the samples below (remember that all display features in theWord can be switched on/off to remove clutter or to add more information to the display, e.g. Sample 4 is identical to Sample 1 but many options have been turned off).

NOTICE: it is recommended to use at least version 3.1.3 of theWord which allows consecutive cross-references to be merged under a single link, in order to avoid clutter due to the many number of cross-references included in NIV.


SAMPLES (click to see): [Sample 1] [Sample 2] [Sample 3] [Sample 4]
Product is not available.
Purchase procedure
Once you click on the Buy now button you will be redirected to a secure (SSL encrypted) page at Paypal to complete your transaction.
You can make your purchase using any major credit card, Paypal or an eCheck. Notice that for all 3 payment methods, the Paypal Service is used. You don't need to have or create a Paypal account to use your credit card.
Once you finish with your payment, you will be redirected back to theWord site where you will get instructions on how you will download the module and get your personal unlock key. Notice that instructions will be sent by email to the email address you will provide at Paypal.
You may use your credit card no matter what currency it is issued in (e.g. US dollars, Euro). Check conversion rates for other currencies.
e-Payments Security
Payments are processed via Paypal.
You don't need a Paypal account to use your credit card. Paypal is just used as a payment gateway that processes the online transaction.
Your credit card data is not stored on this site. Your credit card data is given to a secure (SSL) site at Paypal that processes the transaction on behalf of theWord.
Licensing information
Each module you buy is licensed for use by you and your immediate family in one or more PCs that you own. The unlock key (which will be emailed to you after your purchase) is personal and is associated with your full name and email.
Usage information
The modules that you purchase here are only licensed for and compatible with theWord Bible software. Since these modules are encrypted, you will not be able to use them with any other software or outside of theWord.
Refund policy
Once you receive your unlock data, no refund can be given. Please, ensure that the module(s) you wish to purchase meet your expectations. If you are unsure or need more information, you may contact
[email protected]
with your questions.

Stay tuned!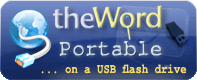 Useful links
Email updates
Enter your email to be notified for updates on program and modules
Is it safe to give you my email?
Latest version
The latest version of theWord is 5.0.0.1450.
Find out how you can check what version you are using
Random verse
I said therefore to you, that ye shall die in your sins; for unless ye shall believe that I am [he] , ye shall die in your sins. (John 8:24)