Archaeology Illustrated, Old Testament

PRICE: $49.95

AUTHOR: Balogh, Balage
AVAILABILITY: Immediate download and unlock of module
PRODUCT HIGHLIGHTS: Set of 30 Old Testament illustrations accurately representing the world of the Bible
DESCRIPTION


With the recent advances in biblical archaeology and in the study of the ancient Middle East it is now possible to provide a reasonably accurate visual representation of the world of the Bible. Based on painstaking research and a careful reading of the biblical text, the recreations of Biblical cities offered serve as a backdrop to many important events recorded in the Scriptures.

The images are a valuable resource for teaching or in ministry as they help to envision the distant world of the Old Testament and time of the Gospels. They are ideal for Power Point presentations or for personal study to enrich one's understanding of the biblical narrative. There has never been a unique collection of images such as these available before!

Balage Balogh, artist, has worked with some of the world's leading archaeologists and researchers to produce illustrations for books, museum exhibits and TV programs.

All illustration included in this module are 1200X800 pixels. Using the integrated Graphics viewer of theWord you can easily enlarge the illustration even more with no noticeable quality loss!

The collection of the 30 Old Testament illustrations include:

Araunah's Threshing Floor at Harvest Time, North of the City of David. 10th Century BC
Avaris in the Nile Delta, City of Jewish Slavery in Egypt, Looking North. 16th Century BC
Babylon at its Height in the 6th Century BC
Ishtar Gate in Babylon. Jewish Exiles Enter the City. 586 BC
Harbor of Byblos, Phoenicia in the 10th Century BC
Jerusalem (City of David) During Solomon's Reign, 10th Century BC
Governor Holding Court in the City Gate of Dan, Israel, 9th Century BC
Hatzor, Israel, in the 14th Century BC. View to the North
Four-Room House in Hatzor, 9th Century BC
Deported Jews in Nebuchadnezzar's Palace in Babylon, 586 BC
Yoshiyahu (Josiah) Rips His Clothes Upon Hearing the Long Lost Torah in 623 BC
Karnak Hypostyle Hall
King David on His Palace Balcony Looking South
Megiddo in the 9th Century BC
Mishkan (Tabernacle) in the Desert of Sinai
Nehemiah Directs the Rebuilding of Jerusalem's Walls After the Return From the Babylonian Exile. 443 BC
Ezra Making a Public Reading of the Torah in Jerusalem After Returning from the Babylonian Exile. 443 BC
Shechem in Jacob's Time. Middle Bronze Age
Shechem. The Covenant Ceremony Conducted by Joshua at the Temple of El-Brith
Samaria (Shomron), Capital of Israel, Looking West, 8th Century BC
Royal Citadel of Shomron (Samaria), Capital of Israel. 8th Century BC
Temple of Solomon, 960 BC
The High Priest entering the Holy of Holies in the Tabernacle on the Day of Yom Kippur
Daily Services at the Temple of Solomon in the First Temple Period
Typical Israelite Four-Room House in Iron Age Cities (1200-586 BC)
Tyre (Tzur) off the Phoenician Coast. 9th Century BC
Yericho in the Middle Bronze Age
Yericho's Gardens. Middle Bronze Age
Yericho's Earliest Occupants, 8000 BC
Ekron Olive Oil Presses 7th Century BC

You may preview samples below.
For more information, you can visit www.archaeologyillustrated.com

See also New Testament illustrations set


SAMPLES (click to see): [Sample 1] [Sample 2]
Product is not available.
Purchase procedure
Once you click on the Buy now button you will be redirected to a secure (SSL encrypted) page at Paypal to complete your transaction.
You can make your purchase using any major credit card, Paypal or an eCheck. Notice that for all 3 payment methods, the Paypal Service is used. You don't need to have or create a Paypal account to use your credit card.
Once you finish with your payment, you will be redirected back to theWord site where you will get instructions on how you will download the module and get your personal unlock key. Notice that instructions will be sent by email to the email address you will provide at Paypal.
You may use your credit card no matter what currency it is issued in (e.g. US dollars, Euro). Check conversion rates for other currencies.
e-Payments Security
Payments are processed via Paypal.
You don't need a Paypal account to use your credit card. Paypal is just used as a payment gateway that processes the online transaction.
Your credit card data is not stored on this site. Your credit card data is given to a secure (SSL) site at Paypal that processes the transaction on behalf of theWord.
Licensing information
Each module you buy is licensed for use by you and your immediate family in one or more PCs that you own. The unlock key (which will be emailed to you after your purchase) is personal and is associated with your full name and email.
Usage information
The modules that you purchase here are only licensed for and compatible with theWord Bible software. Since these modules are encrypted, you will not be able to use them with any other software or outside of theWord.
Refund policy
Once you receive your unlock data, no refund can be given. Please, ensure that the module(s) you wish to purchase meet your expectations. If you are unsure or need more information, you may contact
[email protected]
with your questions.

Stay tuned!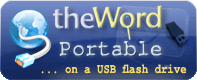 Useful links
Email updates
Enter your email to be notified for updates on program and modules
Is it safe to give you my email?
Latest version
The latest version of theWord is 5.0.0.1450.
Find out how you can check what version you are using
Random verse
My sheep hear my voice, and I know them, and they follow me; and I give them life eternal; and they shall never perish, and no one shall seize them out of my hand. My Father who has given [them] to me is greater than all, and no one can seize out of the hand of my Father. (John 10:27-29)