Complete Gathered Gold, The

PRICE: $26.95

AUTHOR: Blanchard, John
AVAILABILITY: Immediate download and unlock of module
PRODUCT HIGHLIGHTS:

Over 16,000 quotations covering 600+ subjects
A compilation of the books Complete Gathered Gold (1984), More Gathered Gold (1986), Sifted Silver (1995).
"One of the best quote books out there..."


DESCRIPTION


Over twenty years ago John Blanchard compiled 'A treasury of quotations for Christians' called Gathered Gold. It was so well received that it had to be reprinted several times and augmented by two further volumes, More Gathered Gold and Sifted Silver. Now the time has come to make all of this material available to a new readership and in a new format. Approx. 1,000 further quotations have been added, making some 16,000 in all, and the whole work is presented as a new hardback edition.

With quotations from many hundreds of sources, it is hoped that The Complete Gathered Gold will be a valuable resource for preachers, Bible class teachers and group leaders as well as a 'gold mine' for all Christians to dip into whenever they would like to read a gem of truth on any of the 600 or so subjects covered.

Author Dr John Blanchard is an internationally known Christian author, teacher and conference speaker. He received an award for his best-selling book Does God Believe in Atheists? as the best UK Christian Book for 2001. He is the author of many books including: Can we Rock the Gospel?, Evolution: Fact or Fiction?, Has Science Got Rid of God?, How to Enjoy your Bible, Is Anybody out There?, Is God Past his Sell-by Date?, Meet the Real Jesus, Read Mark Learn, Truth for Life, Ultimate Questions, Whatever Happened to Hell?, Where is God when things go wrong?, Where was God on September 11? and Why Believe the Bible?

Endorsements

"Since John Blanchard became a Christian, he has had an "insatiable appetite to hoard pithy statements that summarized important truths or expressed valuable insights in memorable ways". Some of this indexed collection grew into three books published by Evangelical Press: Gathered Gold (1984), More Gathered Gold (1986) and Sifted Silver (1995). These three volumes, plus new quotations (some from the author's own thirty books at the publishers' suggestion), forms this attractively produced volume with easy-to-read print." -

Review from The Gospel Magazine (November-December 2007)


SAMPLES (click to see): [Sample 1] [Sample 2]
Purchase procedure
Once you click on the Buy now button you will be redirected to a secure (SSL encrypted) page at Paypal to complete your transaction.
You can make your purchase using any major credit card, Paypal or an eCheck. Notice that for all 3 payment methods, the Paypal Service is used. You don't need to have or create a Paypal account to use your credit card.
Once you finish with your payment, you will be redirected back to theWord site where you will get instructions on how you will download the module and get your personal unlock key. Notice that instructions will be sent by email to the email address you will provide at Paypal.
You may use your credit card no matter what currency it is issued in (e.g. US dollars, Euro). Check conversion rates for other currencies.
e-Payments Security
Payments are processed via Paypal.
You don't need a Paypal account to use your credit card. Paypal is just used as a payment gateway that processes the online transaction.
Your credit card data is not stored on this site. Your credit card data is given to a secure (SSL) site at Paypal that processes the transaction on behalf of theWord.
Licensing information
Each module you buy is licensed for use by you and your immediate family in one or more PCs that you own. The unlock key (which will be emailed to you after your purchase) is personal and is associated with your full name and email.
Usage information
The modules that you purchase here are only licensed for and compatible with theWord Bible software. Since these modules are encrypted, you will not be able to use them with any other software or outside of theWord.
Refund policy
Once you receive your unlock data, no refund can be given. Please, ensure that the module(s) you wish to purchase meet your expectations. If you are unsure or need more information, you may contact
[email protected]
with your questions.

Stay tuned!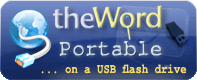 Useful links
Email updates
Enter your email to be notified for updates on program and modules
Is it safe to give you my email?
Latest version
The latest version of theWord is 6.0.1.1533.
Find out how you can check what version you are using
Random verse
My sheep hear my voice, and I know them, and they follow me; and I give them life eternal; and they shall never perish, and no one shall seize them out of my hand. My Father who has given [them] to me is greater than all, and no one can seize out of the hand of my Father. (John 10:27-29)