Recover your unlock data
From this page you can recover unlock data for modules that you already have.
To do so, you will need to provide the email that you used when you got the module. An email with your unlock data will be sent you.

The Bible Panorama (revised 2nd edition)
Surveying the scenery of Scripture; Each chapter of each book of the Bible plainly summarised and explained
Stay tuned!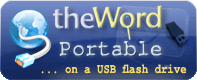 Useful links
Email updates
Enter your email to be notified for updates on program and modules
Is it safe to give you my email?
Latest version
The latest version of theWord is 6.0.0.1527.
Find out how you can check what version you are using
Random verse
And forasmuch as it is the portion of men once to die, and after this judgment; thus the Christ also, having been once offered to bear the sins of many, shall appear to those that look for him the second time without sin for salvation. (Hebrews 9:27,28)