Recover your unlock data
From this page you can recover unlock data for modules that you already have.
To do so, you will need to provide the email that you used when you got the module. An email with your unlock data will be sent you.

Theological Dictionary of the New Testament, Abridged in One Volume
More than 2000 entries, the "Little Kittel" is considered by many the best New Testament dictionary ever compiled
Stay tuned!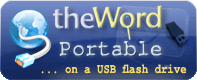 Useful links
Email updates
Enter your email to be notified for updates on program and modules
Is it safe to give you my email?
Latest version
The latest version of theWord is 5.0.0.1450.
Find out how you can check what version you are using
Random verse
Again therefore Jesus spoke to them, saying, I am the light of the world; he that follows me shall not walk in darkness, but shall have the light of life. (John 8:12)