Full screenshots -

Several snapshots with different layouts and themes
Back to top
Bible view -

Screenshots related to the window that displays Bibles
Back to top
Bible view misc -

Verse lists, Bible view options, Bible navigation
Back to top
Bible search window -

Screenshots related to Bible searching
Back to top
Copy verses -

screenshots showing options of the dialog
Back to top
Highlighting -

user highlighting of Bible text and Book resources
Back to top
Book View -

All non-Bible resources (books, commentaries, maps) are displayed here
Back to top
Book Search View -

Non-Bible resources searching
Back to top
Creation of (personal) modules -

All types of resources can be created from within theWord
Back to top
Clipboard Monitor -

automatically detect verses in all programs and display them as you read
Back to top
Cross-references -

theWord gives you many options for Bible cross-references
Back to top
Printing and misc -

Print with preview and miscellaneous screenshots
Jump to screenshots about
• Full snapshots of the program
• Bible view navigation & lists
The Message
The Message preserves the authentic, earthy flavor and the expressive character of the Bible's best-loved books.
Stay tuned!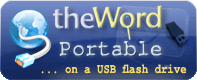 Useful links
Email updates
Enter your email to be notified for updates on program and modules
Is it safe to give you my email?
Latest version
The latest version of theWord is 6.0.0.1527.
Find out how you can check what version you are using
Random verse
For if we believe that Jesus has died and has risen again, so also God will bring with him those who have fallen asleep through Jesus. (For this we say to you in [the] word of [the] Lord, that *we*, the living, who remain to the coming of the Lord, are in no way to anticipate those who have fallen asleep; for the Lord himself, with an assembling shout, with archangel's voice and with trump of God, shall descend from heaven; and the dead in Christ shall rise first; then *we*, the living who remain, shall be caught up together with them in [the] clouds, to meet the Lord in [the] air; and thus we shall be always with [the] Lord. (1 Thessalonians 4:14-17)