Stay up to date with the latest happenings with theWord
theWord Twitter tweets are designed to provide you with:
• Tips
• Tricks
• New Release Info
• Latest Enhancements
• New & Improved Modules
• Interesting Forum Postings
• The Latest Development News
• & anything else which might be beneficial
Please share Twitter tweets with your friends & help spread theWord
Stay Informed -

theWord Twitter Feed
Back to top
Errata -

Regarding Twitter
While Twitter is best known as a social site, it is also a very good notification system allowing organizations to keep their members up-to-date with the latest information.
If you are having trouble viewing theWord Twitter feed these items may help:
• Javascript must be enabled. (This is in no way related to Java)
• Your browser or security settings may be preventing the feed to be displayed.
If you continue having difficulties, or need additional information, email
If you wish to link or bookmark directly to theWord Twitter feed,
you may use this URL for your convenience:
theWord Twitter Feed

Believer's Bible Commentary
Make Bible study a part of your daily life with the thorough yet easy-to-use Believer's Bible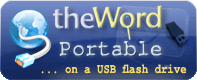 Useful links
Email updates
Enter your email to be notified for updates on program and modules
Is it safe to give you my email?
Latest version
The latest version of theWord is 6.0.0.1527.
Find out how you can check what version you are using
Random verse
and all things [are] of the God who has reconciled us to himself by [Jesus] Christ, and given to us the ministry of that reconciliation: how that God was in Christ, reconciling the world to himself, not reckoning to them their offences; and putting in us the word of that reconciliation. We are ambassadors therefore for Christ, God as [it were] beseeching by us, we entreat for Christ, Be reconciled to God. Him who knew not sin he has made sin for us, that *we* might become God's righteousness in him (2 Corinthians 5:18)